Scouts (2017)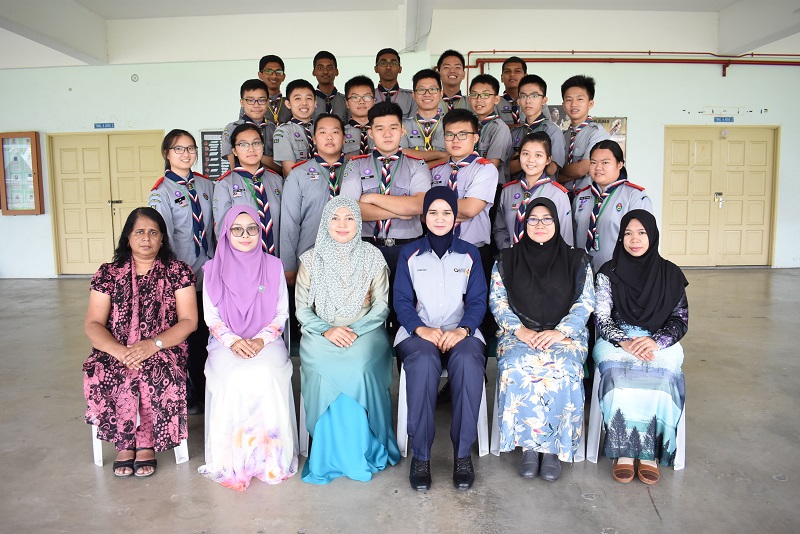 46th West Seremban Scouts Troop SMK St Paul

Group Scouts Mistress:

Miss Zuriyani Bt Mat Zain

Assistant Scouts Masters / Mistresses:

Mdm Azmawati Bt Aidi
Mdm Kamariah Bt Mohd Hasim
Mdm Maizatul Fadhilah Bt Maktar
Mdm Noradaizah Bt Ithnin
Mdm Nor Ameliza Bt Ab Halim
Mdm Norhayati Bt Hashim
Mdm Syamim Bt Ahmad Sowi
Miss Hajah Rohiza Bt Ahmad
Mr Mohd Norroyhaizad Bin Aizal (Afternoon Head)
Mr Rusmawi Bin Muda
Mdm Norhamimah Bt Md Yatim
Mdm Nor Hasima Bt Mat Saad
Mr Kalirasan Kanagasundaram (Pra-U Head)
Mdm Azwin Bt Ali
Mdm Fadzalah Bt Khamis
Mdm Nur Juwaini Bt Arshad
Miss Helen Paul Rajamany

Main Troop Leader: Thoveen Prakash a/l Ramesh

Asst. Troop Leader (Activity): Tan Wei Guang

Asst. Troop Leader (Admin): Chan Jia Zian

Troop Secretary: Lai Pick Han

Asst. Secretary: Maheshen a/l Mahendran

Troop Treasurer: Murugappan a/l Nachiappan

Asst. Treasurer: Lim Guan Yuan

Troop Quartermaster: Hew Thian Shyang

PM Troop Leader: How Sheng Xiong

Asst. PM Troop Leader: Chen Jun Win






13TH MALAYSIA SCOUTS AND KUALA LUMPUR INTERNATIONAL JAMBOREE 2016

61 scout members from Pengakap Muda Remaja and Kelana together with 5 teachers represented the Negeri Sembilan State Contingent for the 13th Malaysia Scouts and Kuala Lumpur International Jamboree (KLJ) 2017. This jamboree was held at Taman Metropolitan Batu, Kuala Lumpur, from 24th November to 1st December 2017. Members participated in various activities.

ORIENTATION PROGRAMME FOR FORM ONE/REMOVE STUDENTS 2017

The orientation for form one was held on 6 January 2017 to attract new members. The troop committee organized various activities such as an exhibition corner, monkey crawl, backwoodsman cooking and a model campsite.

ANNUAL SCHOOL SCOUTS CAMP 2017

The camp was held at SMK St Paul from 17-19 March 2017. 60 members participated in the camp. Activities such as Scarecrow Hunt, Station Games, Commando Training, Backwoodsman Cooking, Campfire Night, First Aid, Marching Competition and the Iron Man Challenge were held in the school. Sashiv Prassath a/l Ramesh won the Iron Man Trophy for this year.

SPORTS DAY MARCHING COMPETITION 2017

Our scouts marching team emerged as the champion in the marching competition for the School Sports Day that was held on 19 February 2017. Credit goes to all 33 members who worked hard for the competition.